InHand, Global Leader of Industrial IoT
For 19 years, InHand Networks has been developing and manufacturing innovative wireless solutions, including edge routers, vehicle telematics devices, Machine-to-Machine (M2M) gateways, and more. Their products are designed with the highest industry standards, ensuring superior internet connectivity and secure real-time communication between machines.
The InHand Edge Router 800 features 5G, SD-WAN, Dual-Band WiFi, comprehensive security, cloud management, and more, providing a convenient, safe, and efficient network for your workspace. Perfect for retail stores, hospitals, restaurants, and other IoT industries. It's compatible with Canadian Carriers.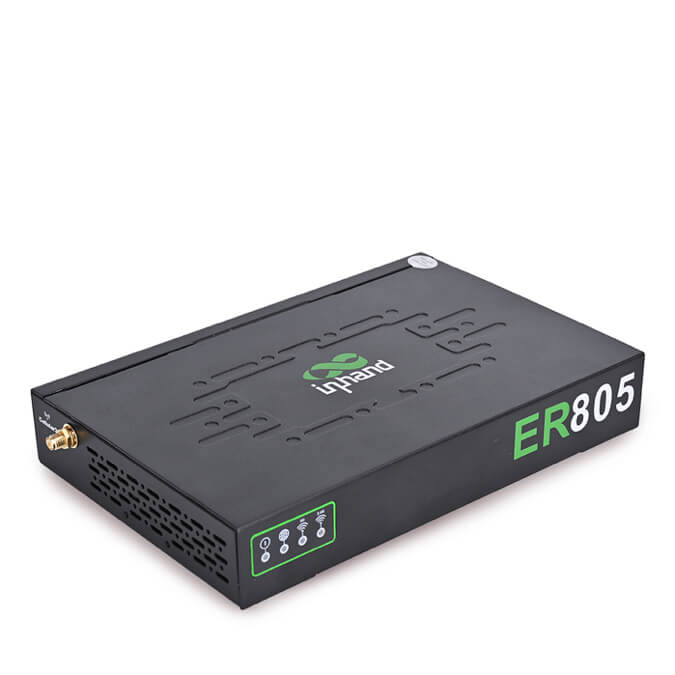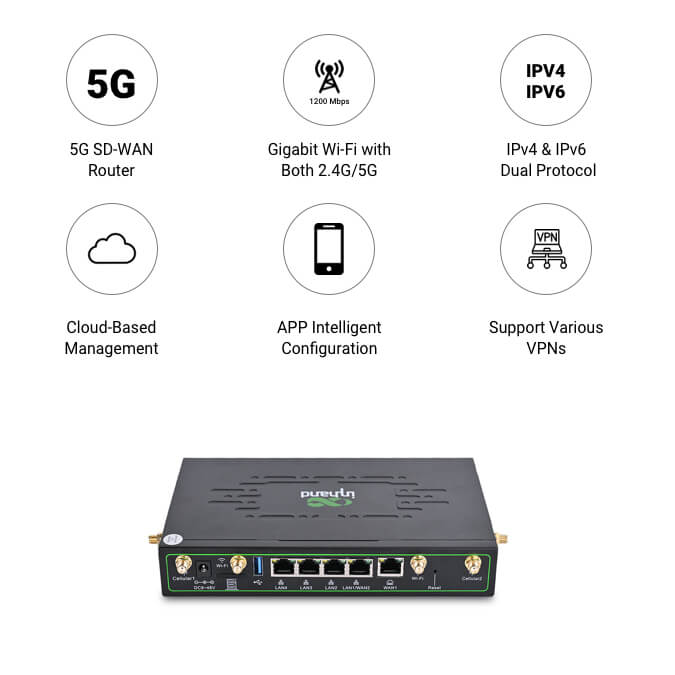 High-Speed, Reliable, & Secure Connectivity
With 5G and 4G cellular network access capabilities, the ER800 provides high-speed connectivity, higher bandwidth, and lower latency relatively anywhere. Dual-SIM technology and broadband connectivity ensure the router is always connected to the most reliable network for constant data uptime. If you're concerned about data breaches, the ER800 features a comprehensive security network, protecting all data from attacks.
Centralized Cloud Management
IT managers can conveniently and securely deploy, manage, and configure the 5G Edge Router anytime, anywhere with the InCloud Manager SaaS platform, increasing efficiency and decreasing management costs. With the help of its easy-to-use interface, it's never been easier to stay on top of your networking devices.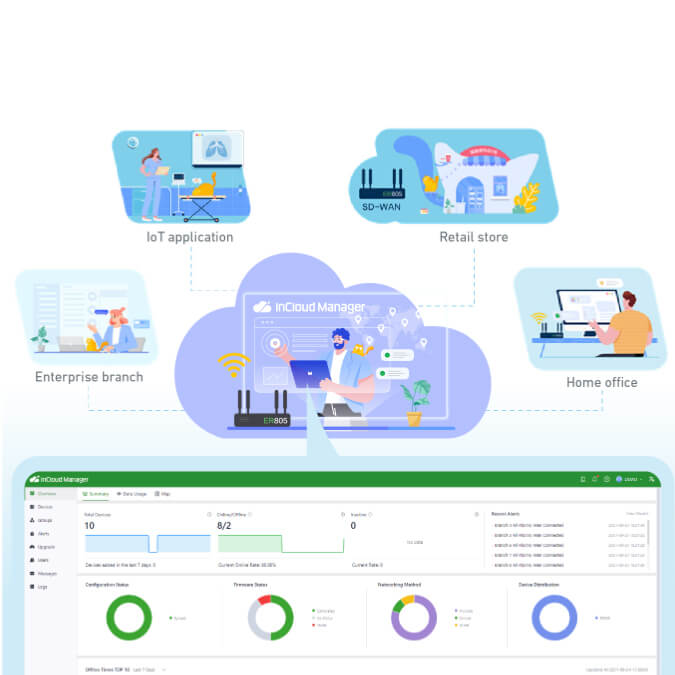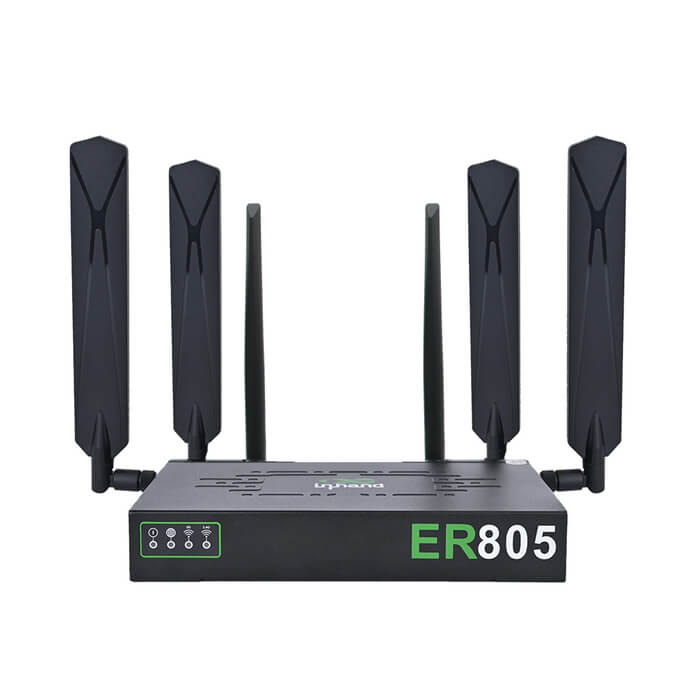 Eliminates Deployment Delays
Waiting on installers or IT for an on-site installation will be a thing of the past with the ER800. It offers a true zero-touch deployment. After powering it on and a few clicks, your business will be good to go. For improved deployment efficiency, your IT team can remotely configure and monitor the IR800 through the InCloud Manager.
Enhance Your Business With SD-WAN
SD-WAN (Software-Defined Wide Area Network) simplifies business operations. It can leverage broadband internet services and cellular to deliver a stronger and more agile network to securely connect your IoT devices to your business's cloud applications with minimal downtime. Thus, simplifying network management, increasing bandwidth efficiency, and lowering costs.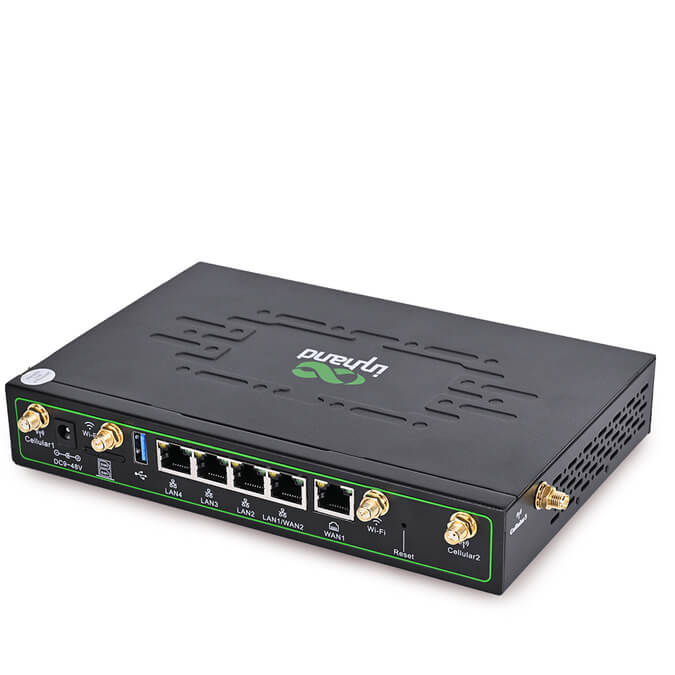 InHand Networks ER800 Details
Superior Internet Connectivity!
The InHand ER800 is a high-performing, top-of-the-line cloud-based cellular router. It's designed to transform IoT Enterprises with high-speed, safe, simple, and convenient connectivity.
Equipped with 5G network access capabilities and SD-WAN, the IR800 ensures uninterrupted high-quality network access. With a cloud-based system, deploying and managing the network of hundreds of sites has never been easier.
On-site employees can plug in the router, click a few buttons, and have the network up and running in minutes. IT can then remotely access your IR800s through a centralized network manager and auto-configure them to efficiently route traffic with minimal downtime based on your business's applications. This will help various IoT industries, such as retail stores, hospitals, restaurants, and others, become more productive and efficient.
The network can be powered by two cellular carriers simultaneously (Bell, Telus, Rogers), as well as an internet service provider. This facilitates link redundancy, which eliminates data transmission failure by automatically switching to the most reliable network in the event a network link fails. No matter what, the ER800 ensures consistent connectivity for continuous data transmission and convenient network management.
5G High-Speed Cellular Network Access

High-speed gigabit WAN/LAN/VLAN networking

Dual-Band WiFi Connectivity (2.4GHz & 5GHz

Supports SD-WAN

Centralized Cloud Management

Zero-Touch Deployment

Comprehensive Security Protection
Technical Specifications
ER805 Hardware
Firewall throughput
600Mbps
VPN throughput
200Mbps
Recommended users
50
Interface
Cellular
5G, downlink 2Gbps,Sub6 (450MHz to 6GHz) 4G
Ethernet port
5*10/100/1000Mbps, Ethernet, Dual WAN/LAN VLAN
USB
1*USB 3.0
SIM
Dual SIM, Nano SIM
RESET
Reset button
Antenna interface
5G cellular*4, Or 4G cellular*2, Wi-Fi*2
Wi-Fi
Frequency
Dual frequency 2.4 / 5GHz Wi-Fi
Transmission bandwidth
Maximum1200Mbps
Transfer Protocol
802.11ac/a/b/g/n Wave2 MU-MIMO
Maximum output power
2.4g:17dBm 5g:17dBm
Operating mode
AP /Client mode
Power Supply
Pin
Power supply
Input voltage
Input:9-48VDC
Power Consumption
12W
Ambient Temperature and Humidity
Working Temperature
8-20°C ~ + 70°C
Storage Temperature
-40°C~ + 85°C
Humidity
95%RH at 60°C
Protection Rating
IP30
Installation
Desk
Desk-top
Wall
Wall mounting
EMC
Electromagnetic Compatibility
II
Mechanical Features
Dimensions (mm)
210mm*140mm*35mm
Features
Wall mounting, metal shell, fan-less cooling
Certificates
CE, FCC, IC, PTCRB, Canadian Carriers
Installation
Our trained product specialists can work closely with you to determine the best solution for this powerful piece of hardware. Call 1-800-638-6336 or email sales@signalboosterscanada.ca.

Frequently Asked Questions
Does the ER800 only work with cellular?
No. The ER800 will work with both cellular and an ISP. For cellular, you need at least one active SIM card from a Canadian carrier to connect to the network. To use the router with your ISP, simply connect the corresponding Ethernet cable to the WAN1 port. You can use one or both networks simultaneously, creating a backup link just in case one network goes out.
Do I need to use two SIM cards with the ER800?
No. The ER800 will work with one active SIM card. Using two SIM cards, however, will provide link redundancy. This allows the 5G router to automatically switch to the most reliable network when needed, ensuring uninterrupted data transmission.
Is the ER800 easy to set up?
Absolutely! Unlike other connectivity solutions, the ER800 features a plug-and-play setup. You do not have to wait on IT or a professional to install the router. On-site employees can easily plug in the router, turn it on, and have the business connected to the internet in minutes. IT can then remotely configure the SD-WAN router in accordance with your business needs.
What is SD-WAN? Why is it important for my business?
A traditional wide area network (WAN) backhauls traffic to connect users to a hub or HQ data center to access business applications. The backhaul causes delays and decreases productivity. This is a problem for businesses adopting SaaS and IaaS cloud-based applications, especially since conventional routers are not designed for the cloud. An SD-WAN router can help solve those challenges.
SD-WAN (Software-Defined Wide Area Network) is a virtual WAN that allows businesses to leverage a combination of cellular, broadband internet, and other transport services to quickly and safely connect users to business applications. With an SD-WAN router, you can run cloud-based applications directly from the router, improving application performance, bandwidth efficiency, productivity, QoS (Quality of Service), and profitability.
Customers Are Also Buying: