InHand, Global Leader of Industrial IoT
For 19 years, InHand Networks has been developing and manufacturing innovative wireless solutions, including vehicle gateways, Machine-to-Machine (M2M) routers, and more. Their products are designed with the highest industry standards, ensuring superior connectivity via cellular networks and secure real-time communication between machines.
The VT310 Tracking Gateway is a state-of-the-art, high-performing telematics gateway for fleet management and vehicle tracking. With extensive built-in interfaces and multiple diagnostic protocols, fleet managers can rely on the VT310 to track and manage freight vehicles, heavy equipment, public transportation vehicles, as well as drivers with accuracy and efficiency. Compatible Canadian carriers.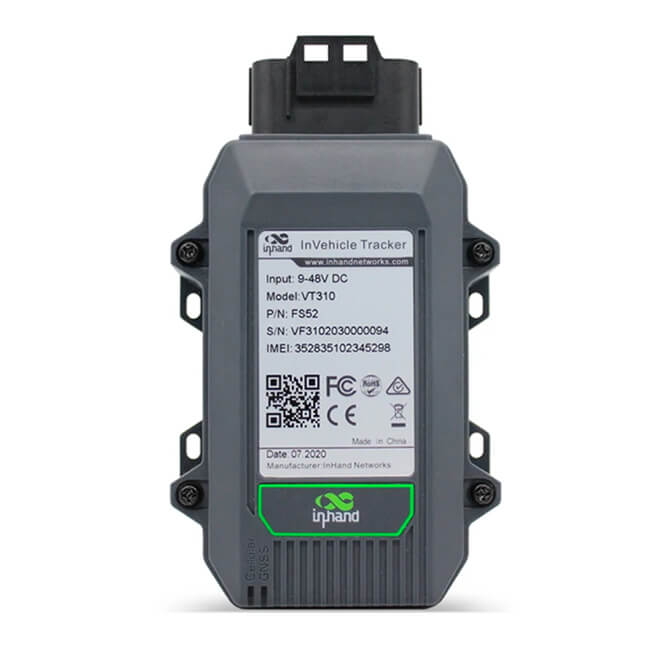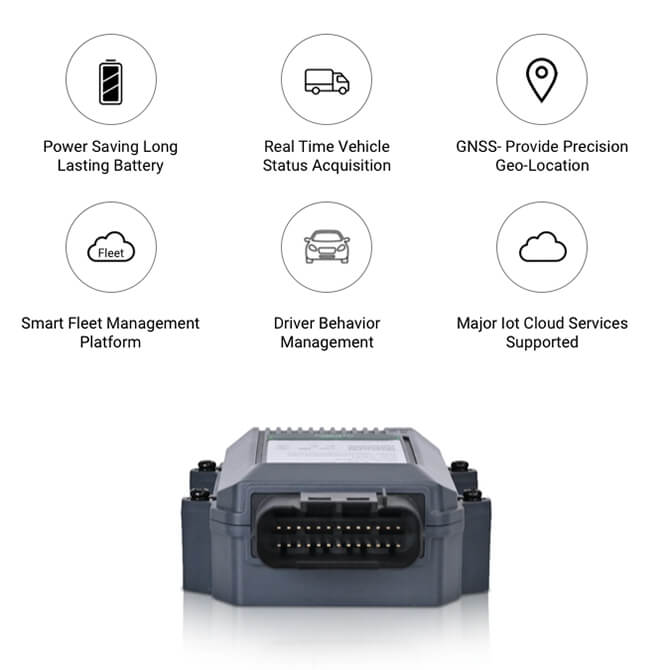 Continuous and Reliable Operation
Uninterrupted real-time data on your vehicles' location and health are important for operation management and the safety of your drivers. The Vehicle Telematics 310 features low power consumption, ensuring a stable connection is maintained for constant tracking and monitoring even with insufficient power. Plus, with its Ni-MH 1200 mAh battery, the VT310 can continue working even when the machine is turned off. In the event cell service is unavailable, the device will continue to store location and diagnostic data until it's back online - you don't have to worry about losing any information!
Designed to Work Where You Need It
Featuring a rugged industrial design, the VT310 ensures stable operation in challenging vehicle environments. It can operate at voltages between 9-48V and withstand temperatures as low as -40°F and as high as 185°F. It's also IP67 protected, meaning it's water and dust-resistant.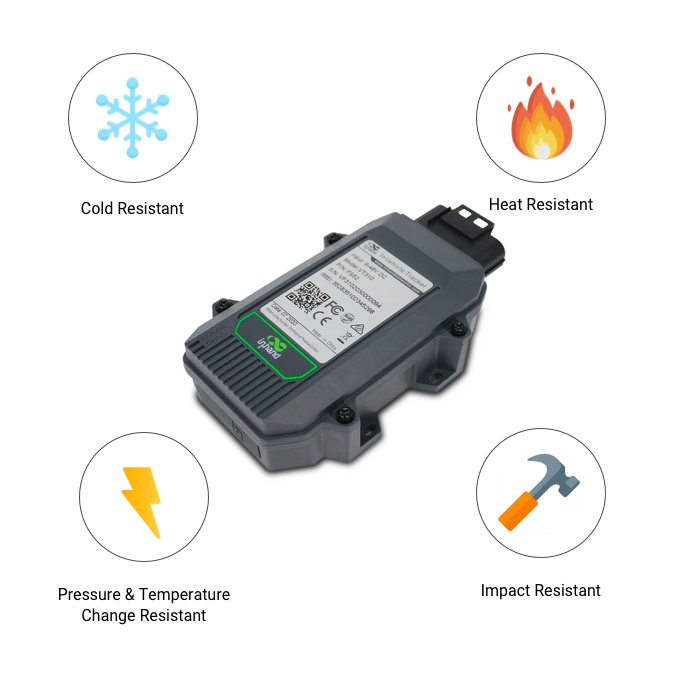 Reliable Fleet Management
The VT310 has you covered for all your vehicle telematics needs. It integrates LTE, GNSS, geofencing, and inertial navigation, ensuring fleet managers can pinpoint where your vehicles are at all times. It can also track your vehicles' health, monitor driving habits, and control other aspects remotely, ensuring the safety of your drivers and cargo.
Customizable Platform for Your Unique Needs
The VT310 allows easy platform customization to meet your business's needs. With FlexAPI, it's simple to integrate with 3rd party vehicle telematics platforms to monitor vehicle health, message drivers, plan routes, track vehicles, and more. The VT310 is also compatible with major IoT cloud services like Amazon Web Services (AWS) and Microsoft's Azure IoT Hub, giving you the ability to develop and deploy custom applications for your fleet management needs.
InHand VT310 Details
Tracking anything, anytime, anywhere!
The InHand InVehicle VT310 is the Swiss army knife of vehicle telematics devices, for use with Canadian carriers. It's a high-performing vehicle telematics gateway with everything you need for fleet management and asset tracking:
Reliable LTE CAT 1 connectivity for all your vehicles and their peripherals
Integrates LTE, GNSS, and inertial sensor, for accurate real-time location tracking
Uses gyroscope to continuously monitor speeding, hard braking, sharp turns, and accidents
Has extensive I/O interfaces to remotely monitor various vehicle peripherals (alarms, sensors, ignition status, etc.)
Supports standard vehicle protocols (OBD-II, J1939 and J1708) to track the health of your vehicles and facilitate preventive maintenance
If you're looking for a reliable and affordable vehicle telematics tool that can track and manage fleet vehicles and drivers with accuracy and efficiency, the VT310 is a no brainer. It's suitable for public transportation vehicles, rental cars, semi-trucks, and with Dual-CAN Bus, it's also perfect for heavy equipment (cranes, earthmovers, etc.). You don't need to worry about damaging the gateway, it's designed to provide stable operation in harsh vehicle environments.
The VT310 can easily be integrated with any 3rd party telematics platform, allowing you to get live stats on location, speed, fuel consumption, alarms, and more. If customized applications are needed to maximize fleet management, the VT310 is compatible with major IoT cloud services like AWS, Microsoft's Azure IoT Hub, and others to do so. It also supports InHand's free Device Manager platform, where you can have centralized control over multiple InHand devices and monitor their signal strength, bandwidth, data usage, and more.
For a reliable vehicle telematics device that features WiFi and Ethernet connectivity, consider the InHand InVehicle G710 Vehicle Gateway
LTE CAT 1

Low-Power Consumption

Rugged Industrial Grade Design

Dual-CAN Bus

Accurate Location Tracking

Real-Time Diagnostics

Monitors Driving Behavior

For Light & Heavy-Duty Vehicles

Works with Canadian carriers

Free InHand Device Manager Platform

Supports 3rd Party Telematics Platforms

Compatible with AWS, Azure IoT Hub, & Others
Technical Specifications
InVehicle VT310 Specifications
Antenna
LTE Antenna
FPC built-in antenna
GNSS Antenna
Ceramic built-in antenna
Bluetooth Antenna
Ceramic built-in antenna
GNSS (Global Navigation Satellite System)
Satellite Support
GPS/GNSS/A-GNSS
Channe
31 channels
Sensitivity
-162 dBm, initial positioning time 32s
Collection Sensitivity
-156 dBm (hot start); -148 dBm (cold start)
Location Accuracy
2.5m (CEP50)
Update Frequency
1Hz by default, max. 10Hz
Low Power Consumption
Continuous operation: <15mA (@ 3.3V single system positioning)
Inertial Sensor
Acceleration
Measurement range: ±2 / ±4 / ±8 / ±16g
Angular Velocity
Measurement range: ±125 / ±250 / ±500 / ±1000 / ±2000dps
Electrical Features
Working Voltage
9-48V DC
Power Consumption
VT310-FS52: 0.55W VT310-FQ58: 0.77W
Electrical Features
Capacity
1200mAh
Rated Voltage
3.7V
Cut-off Voltage
4.2V
Battery Materia
Lithium-ion battery
Working Temperature
Charging: 0 ~ 45 °C; Discharging: -20 ~ 60 ° C
Storage Temperature
For 1 month: -20 ~ 45 °C; For 6 months: -10 ~ 35 °C
Environment
Temperature
-20 ~ 60 °C (connected to main power) -20 ~ 60 °C (powered by internal battery) -10 ~ 35 °C (Long-term storage (≤ 6 months) with battery)
Humidity
95% RH @ 50 °C non-condensing
Shock and Vibration
US military standards 202G and 810F, SAE J1455
ESD
IEC 61000-4-2 (4KV test)
Mechanical Features
Shell Material
Engineering plastic + engineering plastic alloy (PC + ABS)
Dimensions
Approximately 141 x 82 x 35 mm
Weight
152g
Protection Rating
IP67
Vehicle Features
CANBus
2 channels
J1708
1 channel
I/O
Ignition Signal
1 channel
Digital Input
4 channels
Digital Output
3-channels (max. 300 mA)
1-Wire
1 channel
Analog Input
1 channel
Serial Port
RS232
External Interfaces
SIM Card Slot
2FF, push-in slot
I/O
26 PIN
LED Indicator
2 LED indicators: cellular status, GNSS status
Satellite Navigation
GPS, GLONASS, Galileo, Beidou
Installation
Our trained product specialists can work closely with you to determine the best solution for this powerful piece of hardware. Call 1-800-646-0938 or email sales@signalboosterscanada.ca.

Frequently Asked Questions
Does the VT310 have WiFi capabilities?
No. The VT310 is a pure telematics tracker. If you're looking for a vehicle telematics gateway with WiFi capabilities, consider the InHand Networks InVehicle G710.
Does the VT310 need a data plan to work?
Yes. The VT310 needs a data plan to access the cellular network and provide real-time location, health, and driving data. You can get a data plan from Canadian carriers.
Will location data be lost in areas where cell service is unavailable or extremely spotty?
No. The VT310 will store location and diagnostics data till it's back online. Once reconnected, all information will be available in the cloud.
Customers Are Also Buying: