InHand, Global Leader of Industrial IoT
For 19 years, InHand Networks has been developing and manufacturing innovative wireless solutions, including vehicle gateways, Machine-toMachine routers, and more. Their products are designed with the highest industry standards, ensuring superior internet connectivity and secure real-time communication between machines.
The InVehicle G710 is a revolutionary all-in-one cellular gateway for fleet management and reliable data connectivity on the go. High-speed WiFi, GPS, Bluetooth, and Cloud-Based Operation Supervision, make it perfect for commercial vehicles (Buses, Trains, Police Cars, Ambulances, SemiTrucks, etc.), as well as RVs, Campers, and House Boats. Will work with Compatible Canadian carriers.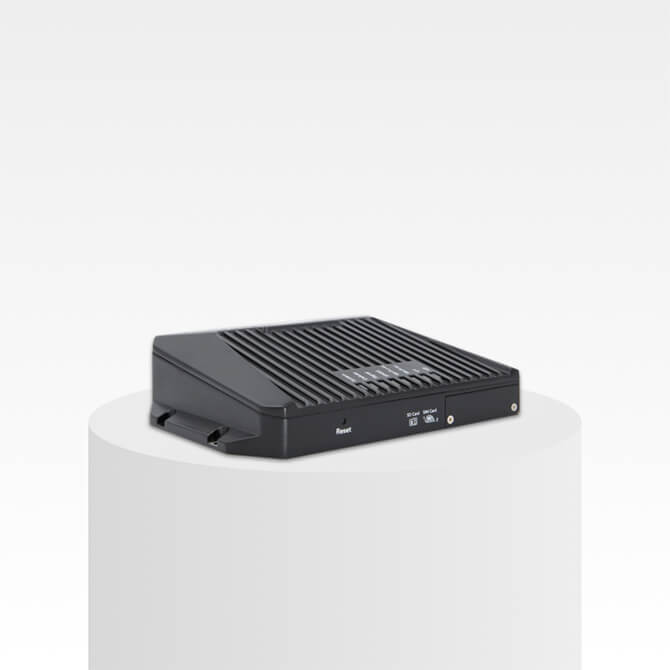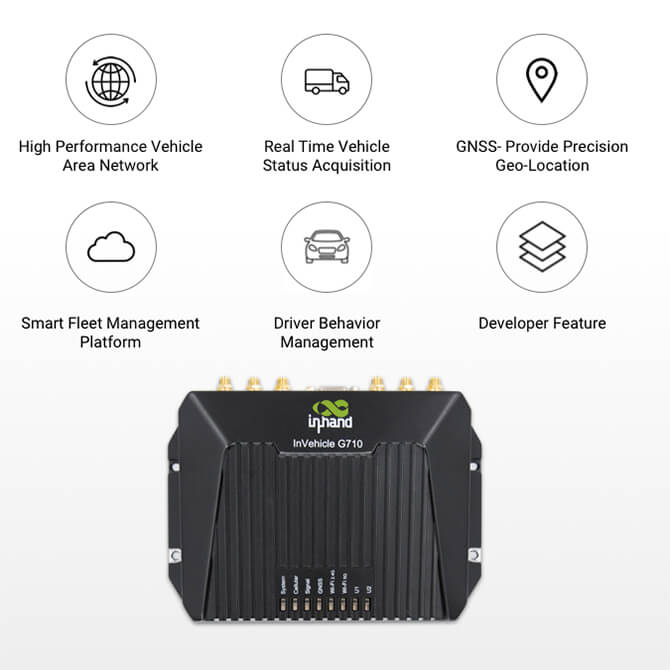 High-Speed, Reliable, & Secure Network Access
Whether transporting goods or traveling with the family, connectivity on the go is vital. The IV G710 provides high-speed 2.4GHz/5GHz WiFi and Ethernet connectivity, ensuring you, your vehicle, and passengers receive a reliable connection on the road for fast data transfer and GPS uptime. With Dual-SIM capabilities, drivers and passengers will receive continuous data relatively everywhere for all connected devices. If you're out of range from one network, the IV G710 will automatically switch to the second network, ensuring constant connectivity.
Designed to Work Where You Need It
With its industrial-grade design, the IV G710 is built to provide highquality connectivity and diagnostics in even the most challenging vehicle environments. It can operate in temperatures as low as -22°F and as high as 158°F. It's also splash, dust, shock, vibration, and humidity resistant.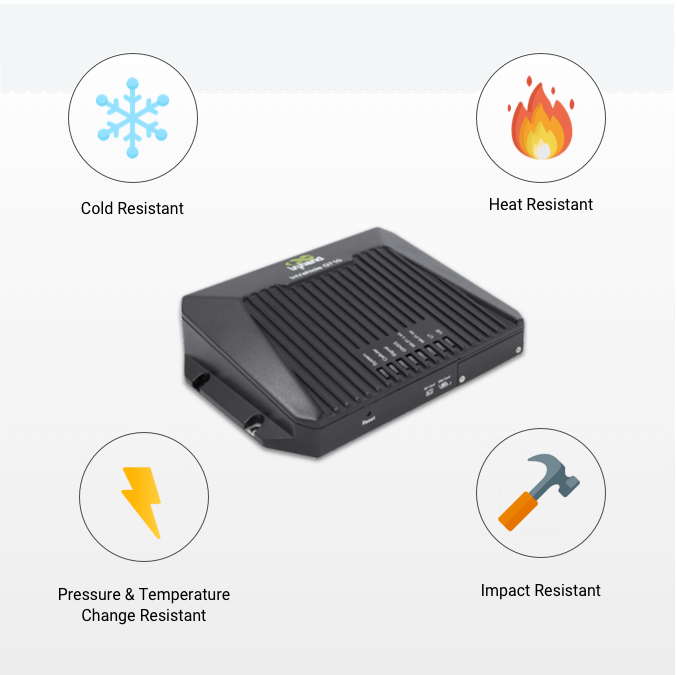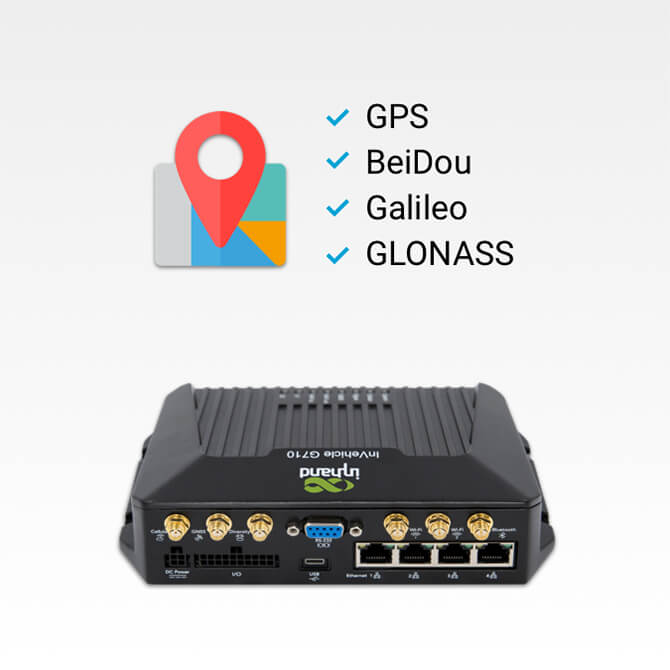 Reliable Fleet Management
The IV G710 is the ultimate fleet management tool. It uses GPS and CAN bus for accurate vehicle tracking and real-time vehicle diagnostics. You'll be able to detect developing problems ahead of time, improving safety and reducing operational costs. It also uses an integrated 3D accelerometer and gyroscope to monitor dangerous driving behaviors, like speeding, sudden braking, and sharp turns, giving you instant alerts if anything goes wrong.
Customizable Platform for Your Unique Needs
The InVehicle G710 allows easy platform customization to meet your needs. With its various integration options (FlexAPI, RestAPI, TCP/UDP), it's simple to integrate with third-party vehicle telematics platforms to manage, monitor, and track your vehicles with ease. The G710 also supports Python3, Docker, AWS, Azure, and other IoT cloud services, enabling you to quickly develop and deploy custom applications for your fleet management needs.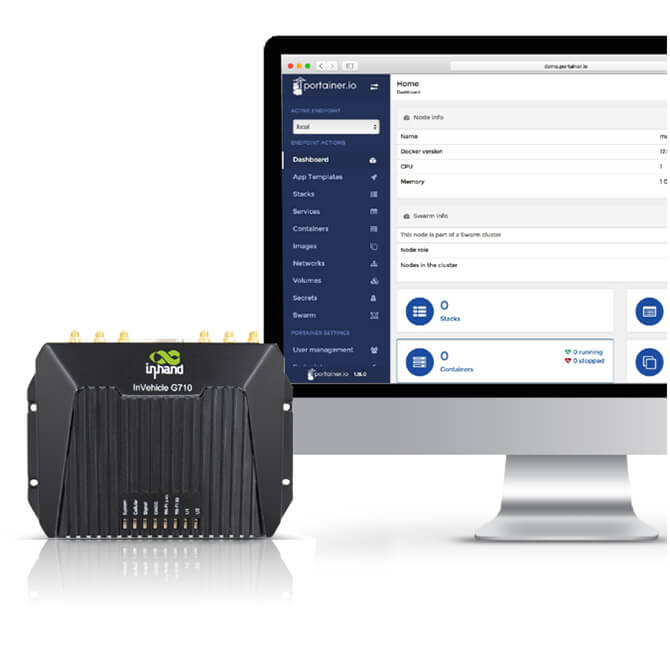 InHand InVehicle G710 Details
Superior Internet Connectivity!
InHand's InVehicle G710 is a new generation of vehicle gateway routers, Compatible Canadian Carriers. It has everything you need for uninterrupted network access, asset tracking, and fleet management:
Features LTE CAT6 high-speed WAN, dual-band 2.4G/5G Gigabit WiFi, and Gigabit Ethernet, providing the vehicle and passengers with a reliable network
Integrates LTE, GPS, GNSS, and inertial sensor, for accurate real-time location tracking
Uses an accelerometer and gyroscope to monitor dangerous driving behaviors
Supports OBD-II and J1939 CAN Bus protocols to track the health of your vehicles and facilitate preventive maintenance
If you're looking for a reliable way to keep yourself or your drivers connected on the road with state-of-the-art fleet management tools, the G710 is the answer. Whether you have an RV, camper, houseboat, or a fleet of buses, trains, police cars, ambulances, or semi-trucks, the G710 will deliver superior connectivity while traveling or transporting goods.
Dual-SIM technology ensures all data demanding devices are connected relatively everywhere. If the vehicle is out of range from one network, the IV G710 will automatically switch to the second network, resulting in uninterrupted navigation and the constant flow of time-sensitive information. This also ensures your fleet management platforms receive real-time data on location, diagnostics, and driving behavior, giving instant alerts if anything goes wrong.
The G710 can easily be integrated with any 3rd party telematics platform, allowing you to get live stats on location, speed, fuel consumption, alarms, and more. If customized applications are needed to maximize fleet management, the G710 supports Python3, Docker, AWS, Azure, and other IoT cloud services, to do so. You'll also have access to InHand's free Device Manager platform, where you can have centralized control over multiple InHand devices and monitor their signal strength, bandwidth, data usage, and more.
Everything you need for reliable in-vehicle WiFi, diagnostics, and tracking, is included in the kit.
LTE CAT 6

Speeds Up to 1000 Mbps

2.4GHz/5GHz WiFi Connection

Gigabit Ethernet

Location Tracking

Real-Time Diagnostics

Monitors Driving Behavior

For Automobiles and Transport Service Vehicles

Compatible Canadian Carriers

Free InHand Device Manager Platform

Supports 3rd Party Telematics Platforms

Compatible with AWS, Azure IoT Hub, & Others
Technical Specifications
InVehicle G710 Software Specifications
Network Access
APN, VPDN
Access Authentication
CHAP/PAP/MS-CHAP/MS-CHAP V2
LAN Protocol
ARP, Ethernet
Network Protocols
IP Applications
IPv6, Ping, Traceroute, DHCP server/relay/client, DNS relay, DDNS, Telnet, SSH, HTTP, HTTPS, TFTP, FTP, SFTP, Portal
IP Routing
Static routing, RIP, OSPF, BGP, IGMP Proxy
Network Security
Firewall
SPI, DoS attack defense, multicast/Ping probe filter, ACLs Supports NAT, PAT, DMZ, port mapping, virtual server
User Level
2 levels: administrator; read-only
AAA
Local authentication, Radius, Tacacs+, LDAP
CA Certificate
PEM, PKCS12, SCEP
VPN
IPsec VPN, L2TP, PPTP, GRE, OPENVPN, CA
Reliability
Backup
Floating routing, VRRP, interface backup
Link Detection
heartbeat packet to detect, auto redial when disconnected
Watchdog
Runs self-detection and auto-repairing of device
Offline Storage
Built-in cache, records key data when network unavailable
Ports
VLAN Partition
Supported
Port Mirroring
Supported
WLAN
Protocol
IEEE 802.11 ac/a/b/g/n
Security
Shared key, WPA/WPA2 authentication, WEP/TKIP/AES
Network Management
Configuration
Local or remote HTTP, HTTPS, Telnet, SSH
Upgrade
Local or remote WEB, DM, TFTP, FTP, SFTP server
AAA
Local/Radius/TACACS+
Network Diagnostic
Ping, Traceroute, Sniffer (network packet capturing tool)
Edge Computing Framework
Edge Computing Platform
An edge computing platform integrating network, computing, storage and applications
Edge Computing Engine
Python & Docker
SDK
Python 3 SDK, Docker SDK and Azure IoT Edge SDK
IDE
Visual Studio Code
IoT Architecture
Supports MQTT, DDS, AMQP, XMPP, JMS, REST, CoAP
3rd Party Cloud
MS Azure, SmartFleet and development APIs for other third-party platforms
Docker Images
Node-RED, Ubuntu, Docker for ARM 32, etc.
Application Services
Pulsed Electric Field
EN61000-4-4,level 2
Surge
EN61000-4-5,level 2
Conducted Disturbance Immunity
EN61000-4-6, level 2
Shock Wave Resistance
EN61000-4-12, level 2
InVehicle G710 Hardware Specifications
Hardware Platform
CPU
ARM Cortex A7
RAM Authentication
1GB/512MB DDR3
FLASH
8GB eMMC
WAN Protocol
717MHz
Satellite Navigation
GNSS Receiver
GPS, GLONASS, Galileo, Beidou
Built-in Sensor
Inertial navigation sensor (accelerometer and gyroscope)
Position Deviation
1.5m (With SBAS)҅2.5m (Autonomous)
Tracking Sensitivity
-160dBm
Location Update Rate
MAX 10Hz
Interface
Cellular
LTE CAT6/ CAT4
Ethernet
4*10/100/1000Mbps RJ45 interface
Serial Port
RS232 serial (DB-9)
USB Port
USB2.0 ҅Micro-B (Read-write: MAX 480Mbps)
MircoSD
Micro SD Card (up to 32GB, 20MB/s)
Bluetooth
Bluetooth 4.1
Antenna
SMA-K: Cellular, GNSS, Diversity; RPSMA-K: 2*Wi-Fi, BT
Indicator
System, LTE, Signal, GNSS, Wi-Fi 2.4G, Wi-Fi 5G, U1, U2
Wi-Fi
Frequency
2.4G / 5GHz dual-band
Protocol
Wi-Fi 5
Maximum Output
2.4g:17dBm 5g:17dBm
Working Mode
AP /Client
Automotive Interface
DI
6*digital input / 6 ch multiplexing, configurable
AI
6*analog input / 6 ch multiplexing, configurable
DO
4*digital output
Diagnostic Interface
CanBus
RS485
RS485 serial (A+, B-, GND)
Other
1 WIRE (driver ID/temperature
Power Supply
Pin Definition
V+, V-, ignition signal, NC (4 pins)
Input Voltage
9-36VDC [configurable to 7-36VDC]
Protection
Built-in voltage transient protection, with delayed ignition induction
Standby Power
0.006W - monitors ignition signal only; system starts on ignition
Operating Power
12.00W - average when RF module not running at full load
Peak Power
18.20W - peak value when RF module running at full load
Mechanical
Installation
Wall-mounting
Protection Rating
IP64
SIM Card Slot
Dual SIM
SIM Card Spec
2FF
Cooling
Radiation cooling
Housing
Die-cast aluminum
Dimensions (mm)
186x128.5x48
Real-time Clock
Supported
Weight
775g
Mechanical
Operating Temperature
-30°C ~ +70°C -22°F ~ +158°F
Humidity
95ѾRH @ 60°C
Storage Temperature
-40°C ~ +85°C / -40°F ~ +185°F
Physical
Shock
-IEC60068-2-27
Vibration
IEC60068-2-6
Fall
IEC60068-2-32
Certification
CE, FCC, IC, PTCRB, E-Mark, RoHS
Gateway Bundle Kit Includes
4 wires power cord, 4-pin molex connector, 10 feet (3 meters)
20-pin connector to OBD-II harness & 3m CAN bus cable
Puck 4 Antenna (1 GPS + 2 Cellular)
Gateway Bundle Kit Includes
4 wires power cord, 4-pin molex connector, 10 feet (3 meters)
Installation
Our trained product specialists can work closely with you to determine the best solution for this powerful piece of hardware. Call 1-800-638-6336 or email sales@signalboosterscanada.ca.

Frequently Asked Questions
Do I need a data plan for the VG710 to work?
Yes. A Canadian carrier data plan is required for the VG710 to work. Without a data plan, the VG710 will not be able to access the network to track or provide your vehicle with a reliable connection.
Do I need to use two SIM cards for the VG710 to work?
No. As long as you have one active SIM card, the VG710 will work. However, using two SIM cards will ensure uninterrupted vehicle tracking and network access. If the vehicle is out of range from one network and in range of the other, the VG710 will automatically connect to the most reliable network for constant connectivity.
Is the VG710 strictly for commercial vehicles?
Not necessarily. While the VG710 is designed to simplify fleet management and improve connectivity inside commercial vehicles, such as buses, police cars, ambulances, trains, and the like, it can also be used to blanket RVs, campers, and houseboats with a reliable internet connection
Customers Are Also Buying: