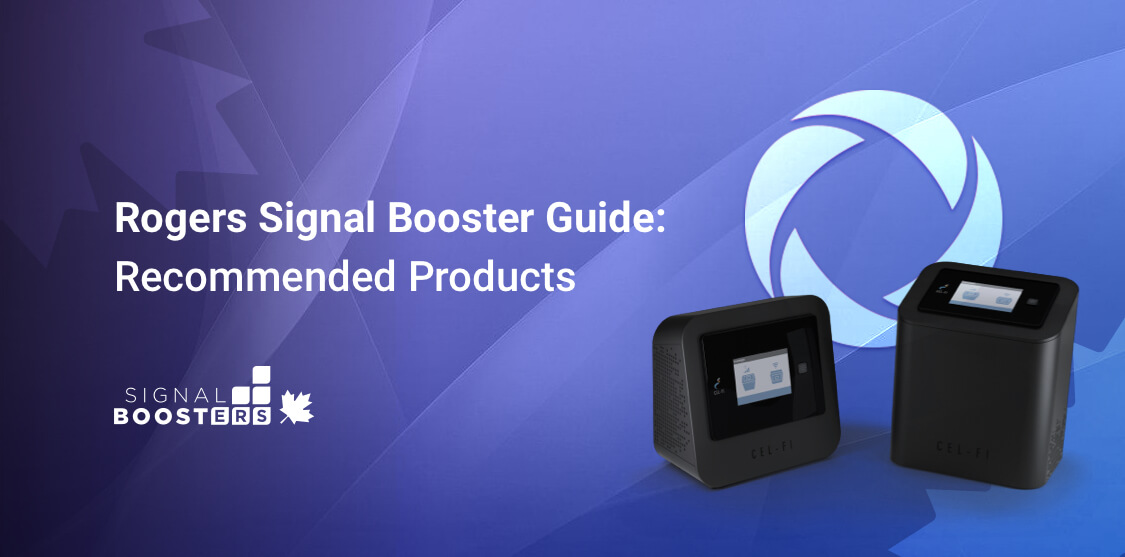 Rogers is one of the oldest cell carriers in Canada. The company was started in 1960 by Ted Rogers, who bought a radio station with a loan. From there it has grown to become the mighty cellular company that we know today. Did you know that Rogers still owns and operates several radio stations? Although that's not where their focus lies, it still pays homage to Ted Rogers's passion.
.
Making sure that you have great quality Rogers cell signal all over the country can be a challenge. To help you out, you need a good quality signal booster. Dropped calls, slow texts and buffering videos are not just frustrating, but can be a real issue if you are out in the woods.
Having a bad signal results from several things. Trees, mountains and even buildings can all block signal. Whether you are in a concrete jungle or a real one, your bars may be low because of what is around you. Most places have an amount of outside Rogers cell signal, although it may be too weak to use. A signal booster will take that weak signal and amplify it into something that your devices can use. We have created a neat loss to help you choose the right signal booster to make the most of your Rogers signal, no matter where in Canada you are.
We Fix Poor Cell Signal! Find the Perfect Booster for Your Situation:
Attention business & property owners, installers and integrators
Take advantage of our system design and installation services. Learn more or call us for a free consultation: 1-800-969-8189.
Best Rogers Signal Boosters for Your Home
Best Luxury Rogers Signal Booster For Home
Cel-Fi PRO Overview:
Boosts 3G, 4G and 4G LTE indoors (Single carrier only)
Up to 1208 sq meters of coverage
Up to +100 dB Gain
If you are looking for the most powerful signal booster on the market, check out the Cel-Fi Pro. The Pro is a single carrier booster, meaning that it will boost your Rogers cell signal only at any given time. Because of this, it is legally allowed to have up to +100 dBm gain, as opposed to its competitors who can only have +70 dBm gain. If you need to change your carrier you can do so via the Cel-Fi Wave app.
Easy to install, you simply place the one Pro unit near a window, and the second one where you need your signal to be strongest. The first unit will draw in an outside signal, and send it to the second one, which will amplify and broadcast the signal throughout your home.
Best Mid-Range Rogers Signal Booster For Home
SmoothTalker Home Stealth Z6 Signal Booster Overview:
Best for locations with good outdoor but poor indoor signal
Max Gain – Z660: +60 dB - Z665: +65 dB - Z670: +70 dB
Max Coverage – Z660: 232 sq m - Z665: 464.5 sq m - Z670: 929 sq m
Choose from a number of antenna options
The Stealth Z6 from Smoothtalker does exactly what it says it does. A good mid-priced signal booster for Rogers signal, the Z6 is 5G ready and will work in both the city and the country. The best results are within 10 km of a cell tower. Boost 3G, 4G and 4G LTE signal for all of your mobile and IoT devices.
Choose your outside antenna to make the most of your ambient Rogers signal.
Great for areas near the city where the outside signal is quite strong, but the inside signal is weak. This booster is best suited for areas within 10 km of the cell tower.
Best Budget Rogers Signal Booster For Home
4K Plus Signal Booster Kit Overview:
4G coverage up to 4,000 sq. ft.
Amplifier and indoor antenna all-in-one combo
Works for all phones & all CA carriers
Complete kit: all parts included
5G ready
If you are looking for a good signal booster or s smaller home, check out the Home 4K Plus signal booster from HiBoost. This next-gen signal booster has a built-in panel antenna to cover up to 371 square meters of space with strong Rogers cell signal. Boost 3G, 4G, 4G LTE and 5G in both urban and rural areas. Monitor and trouble shoot your device from anywhere with HiBoost's Signal Supervisor app. This booster is 5G ready.
Best Rogers Signal Booster Kit For Home
weBoost Home MultiRoom Signal Booster Kit Overview:
Best unit for midsize homes and offices
Highly customizable for your exact situation
Multiple antenna options for any interior
Best home booster kit on the market
The best home signal booster kit on the market is the weBoost Multiroom. All weBoost signal booster kits are 5G ready and easy to install. You can connect several devices without lag to make sure that everyone in the family is happy. Boost Rogers signal up to 464.5 square meters. Whether your home is in the country or the city, the weBoost home Multiroom is a great budget-conscious choice.
Best Rogers Signal Booster for Vehicles
Best Luxury Rogers Signal Booster for your Vehicle
Cel-Fi GO Overview:
Powerful single-carrier solution.
Complete kit, easy install.
Boost signal up to 70+dBm
5G ready
Stay connected no matter where you drive with the Cel-Fi GO+. This is the most powerful single carrier booster for vehicles. With up to +70dBm it outranks its competitors by +20dBm. As it is a single carrier booster, you choose which carrier you wish to use when you buy it. If you need to update that choice you can do so using the Cel-Fi Wave app. You can also use the app to monitor and adjust the booster's performance from anywhere. The Cel-Fi GO+ G32 model is 5G ready.
Best Mid-Range Rogers Signal Booster for your Vehicle
SmoothTalker Mobile X6 Vehicle Cell Signal Booster Overview:
Get up to +50dB of gain
Best signal boosting for a range of 30 mi (50 km) from the tower
Great for all vehicles including cars, SUVs, trucks, RVs, boats, and trailers
Choose the antenna option that best suits you
5G ready
The SmoothTalker X6 is a great mid-priced signal booster for any vehicle. Keep in touch both via mobile devices as well as IoT devices with your whole fleet. If you simply drive an RV and need a good Rogers signal booster, this is a fantastic option
Great for those outdoor activities such as hunting or fishing, stay on the grid when it matters most. "Stealth" technology offers customisable gain with full oscillation and power control. Make your signal booster your own, suited for your circumstances. Magnet mounted antenna housing means that your antenna stays stuck to your vehicle, no matter what your speed.
Best Budget Rogers Signal Booster Kit for your Vehicle
weBoost Drive Sleek Overview:
3G and 4G Coverage for Single User
Works for all phones & all CA carriers
Complete kit: all parts included
Up to 23 dB (decibels) of gain
5G ready
The weBoost Drive Sleek is a super little booster for one device in your vehicle. Simply attach it somewhere in your cockpit, and keep your phone or tablet docked for strong, reliable Rogers signal.
This booster works best in urban areas with good outside signal, although you can use it in the country. If the signal is weaker outside, you can expect fewer bars inside. Great for cars, trucks, and RVs
Best Bell Signal Booster for Commercial Buildings
Best Luxury Rogers Enterprise Signal Booster
Cel-Fi QUATRA 4000 Overview:
Compatible with Rogers, Bell, Telus, Fido, Wind, etc.
Customizable system solutions: choose your carriers & coverage.
No monthly fees, no wifi needed
5G ready
The Cel-Fi QUATRA 4000 is the leading signal booster for businesses in the country. It dramatically boosts signal in buildings and areas up to 1858 square meters. It is an indoor booster, so be sure not to mount it outside. Enjoy up to 1000x more power than other multi-carrier boosters in the same class. Multi-carrier boosters are legally limited to +70dBm, while the Cel-Fi Quatra offers up to +100dBm.
The package comes standard with two coverage units, but you can add up to four CU's coverage units to increase booster range to up to 4645 square meters.
Cel-Fi is the only brand in North America that produce single carrier boosters. This is a premium product designed for large businesses and enterprise spaces.
Best Mid-Range Rogers Enterprise Signal Booster
weBoost for Business Office 200 Signal Booster Kit Overview:
Cover between 12,000 and 35,000 sq ft
FCC-approved and 5G capable.
Comes in 50 Ohm or 75 Ohm
5G ready
Boost your productivity with the weBoost for Business Office 200 signal booster Kit. The kit contains everything that you need to set your enterprise up with better Rogers signal. Blanket your area up to 3251 square meters* with reliable stronger cell signal. The weBoost Office 200 is designed for warehouses, restaurants, and even barns.
* Effective coverage area depends on quality and strength of outside cellular signal, internal building materials, and antenna configuration.
Best Budget Rogers Enterprise Signal Booster
weBoost for Business Office 200 Signal Booster Kit Overview:
Direct connect machine-to-machine signal booster
For fixed applications and mobile
Ideal for monitoring equipment in weak signal areas or deep within buildings
Numerous donor antenna options for your exact situation
The SmoothTalker Stealth M2M X6 not only keeps you in touch with your mobile devices but also keeps your IoT devices connected. Keep every unit in touch within The X6 boosts 3G, 4G and 4G LTE signal, and is 5G ready. If you have a small office area, but several IoT devices the X6 M2M booster is for you. It's perfect for connecting each IoT device to the Rogers network.
This booster is best for individual devices that are between 10km and 50km from the nearest tower. Perfect for outlying security cameras and similar devices, even in previous no signal areas. Get up to +15 dBm of power for outside Rogers signal no matter where your devices are.
How long will 3G be available in Canada?
You may have heard that the US has already sunsetted its 3G network. This is because the carriers want to make space on the frequency spectrum for more 4G and 5G traffic. Disbanding the 3G network is not a bad thing. In fact, it means that your 4G and 5G devices will be faster. In Canada, you can expect all carriers to have done away with 3G by December 2025.
Transferring from 3G to 4G shouldn't be too much of a hassle. Your phone likely is already a 4G phone. The main issue will be IoT and M2M devices that will need to be updated. If you rely on a large amount of 3G devices, such as GPS trackers in your fleet, it's a good idea to look at replacing them with newer models. 5G will become more readily available in more areas soon, allowing your phone access to faster data transfer rates. 3G Network?
What About Rogers 5G?
Rogers boasts Canada's largest and first 5G network. Currently, they serve about 19 million Canadians, mostly within city limits. On March 28 2022 Rogers launched Canada's first commercially available standalone 5G network. All of Rogers' Infinite Wireless plans include 5G standards at no extra cost. To make use of it, you need to have a 5G phone.
Many 4G phones are not 5G ready. Especially if it was made before 2020. Migrating to 5G shouldn't be too much of a pain, providing that you have a suitable device. Simply switch 5G on under your settings menu, and your phone will automatically choose the best network. If you don't, don't worry. 4G will be around for several years still. IoT and M2M devices use 4G as 5G isn't widespread enough yet.
If you aren't sure how strong your signal should be, have a look at this Rogers Coverage Map.
Need to boost signal for another carrier? Have a look at the Telus booster guide or our Bell booster guide.
Contact Us
SignalBoostersCanada.ca is your go-to for the best range of cellular signal boosters, WiFi routers, range extenders and more.  We specialize in custom made, consumer-friendly kits, RF systems for cellular, public safety two-way radio, DAS, and WiFi. If you have any questions or want to find out more, don't hesitate to contact us at 1-800-638-6336 or sales@Signalboosterscanada.ca. 1151 Martin Grove Road, Etobicoke, ON M9W 4W7.
Shop SignalBoosters.com USA